George W Peck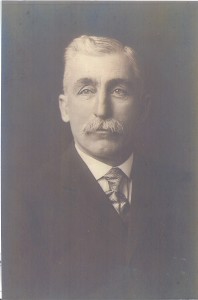 Mr. Peck was born at Landsdowne, Leeds County, province of Ontario, Canada on February 18, 1854. He gained early education training in public schools of the state of New York and when he was fourteen he entered the employ of the firm Powers & Wagner at Savona, Steuben County. He assumed this position in 1870 and in this connection he gained his initial experience in the hardware business in which he was later to achieve so much prominence and success.
In 1875 he became a member of Wagner & Peck and in the following year he purchased his partner's interest in the business, continuing by himself in Savona until 1880. He then moved to Prattsburgh, this county, where he purchased the hardware stock from George H. Look. In 1883 he established a branch store in Pulteney. In 1888, he purchased the stock of hardware at Cohocton. In 1888 he purchased the stock of Hodgman and McNamara of Bath and in 1893 he established a branch at Bradford. In the following year he found it expedient to bring his various mercantile interests into more effective control by the organization of a stock company, which was incorporated under the title of George W. Peck Company. When he began operation as an independent business man in 1875, the annual business controlled did not exceed four thousand dollars. The splendid growth of the enterprise under his able management was measurably indicated when it is stated that the aggregate amount of business done by the company in 1910 was fully two hundred and fifty thousand dollars. The George W. Peck Company also operated stores in Canandaigua, Penn Yan and Dansville.
While he was a resident of Prattsburgh, he was elected Supervisor in 1888, serving one term in this office. He was also a member of the Board of Education. He was elected Supervisor of the town of Bath in 1907 and re-elected in 1909. He had been on several occasions a delegate to the Democratic State Convention. In 1884 he married Miss Flora Griswold and to them five children born, namely George G., J. Arthur, Flora M., Warren S. and John Elwood.